The main concern of today's world is cybersecurity. Because many large companies have gone through it and they have been the victim of cybersecurity.
Many times many large companies have lost their most valuable and personal information. They have been the victims of cybersecurity.[Updated]
So far, iPhone users use I-clouding to sore their huge amount of data and they can store their important data on iCloud.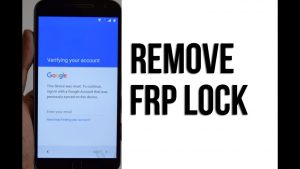 They use iCloud for the storage of a large amount of data with the added feature of data protection.
Similarly, Android users can store their data using FRP lock. But in some cases of FRP locks users stay locked out of their devices by losing their security that is their password of the synced account in the FRP or the email and user name of their accounts.
In that case, the user of FRP can bypass their phones. Here we will tell you two different methods of bypassing your devices.
The first method is very basic and simple which is PROFESSIONAL FRP REMOVAL SERVICE and the second one quite difficult is by using any Application to bypass the phone.
But before going on you must know what FRP lock is and how it works.
WHAT IS FRP LOCK AND HOW IT WORKS?
FRP is google protection, it is the android security feature. It is designed to prevent unauthorized access to a mobile phone without the permission of the owner.
By forcefully doing so the device will pop up a predefined message that Your Device was reset and will ask the user to provide a password with the synced account. Unauthorized users will fail to provide so they will never access the device without the permission of the user.
DOWNSIDES OF FACTORY RESET PROTECTION
If you accidentally forget the password of the account you are signed with into the FRP then you will never be able to access your device again without passing your device from the process of the bypass.
The bypass is the way of getting access to your device again by using several methods. Now we will explain the methods and techniques to bypass your phone once you are locked out because of FRP.
FRP REMOVAL SERVICE
As our main concern is how to bypass the phone the very first step to try is the FRP removal service. This is the professional way of removing the FRP from the mobile device.
It is a reliable, fast, and effective approach to bypass the phone.
PROS of USING FRP REMOVAL SERVICE:
It allows you to bypass factory reset protection without the involvement of any hardware device or application that is a computer or any bypass application.
The bypass process using this technique is extremely fast that it will take only 5 minutes to bypass your device.
Using this method you can bypass your device remotely.
This FRP removal service is legal, official, and effective.
STEPS TO REMOVE FRP USING REMOVAL SERVICE
The basics and easy steps to remove FRP from the device using a professional removal service are:
Open the unlock junky website.
Select your device model from the menu.
Click unlock, make the required payments.
The bypass process will start and it will take only 5 minutes maximum to do so.
  An alternative method to bypass FRP
Another alternative method to do so is to use the mobile application to bypass like Technocare. This approach is quite difficult and will consume much time as compared to the professional removal service process.
METHOD TO BYPASS USING APPLICATION.
If you cannot afford the paid service to bypass FRP then you can also use mobile applications to do so. But keep in mind that this method is quite slower.
Requirements:
Make sure that you have a sim card installed on your device through which you are bypassing your device.
Advantages of using Application to Bypass
The most important point to remember for using an application that is free of cost.
STEPS TO REMOVE USING APPLICATION
On the second device install any application to bypass your device.
Now open the application and select WAP PUSH.
You can use the URL that is Http//: URL.prefix.
A new window will be opened
Enter your phone number on which you want to generate OTP.
Further on you will receive multiple options and notifications you have to check all those easy notifications and commands you will be good to go.
But sure you have allowed third-party installments or the installation from the unknown resource of your both devices